Benefits of Air Plants are much more than you ever expected! Read this find out 9 benefits of having air plants in your home.
Air plants are commonly known as Tillandsia and they have virtually endless benefits. Apart from aesthetic beauty, they have impeccable scientific advantages. On that account, the benefits of air plants are numerous and remarkable at the same time. The highlight of these plants is that they are easy to maintain. In addition to that, they do not require soil to grow. Thus, keeping them indoors is the ultimate option. To get more insights about their advantages, read on.
1. Interior decoration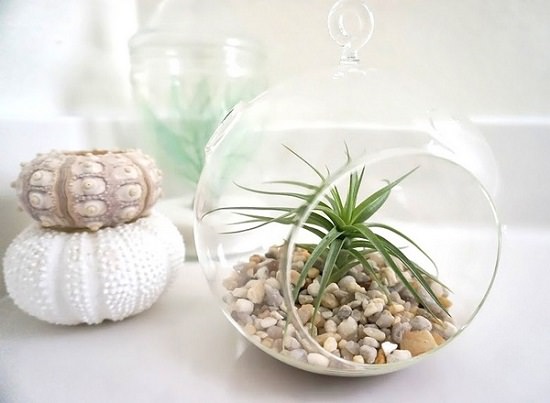 Air plants decorate your interior making it look more beautiful and sophisticated. Those that are colorful enhance your home space. You can place them in the kitchen to add a natural appearance. Alternatively, you can place them in your sitting room to complement your furniture. You can tailor-make them to suit any design or style. For instance, you can put them in classy bottle terrariums and hang them. Your house will have a whole new enchanting look. It creates a splendid ambiance for visitors and the entire family.
They bloom and produce arrays of colors such as red, purple, yellow, orange and magenta. They get meticulously attractive when they blossom and produce such notable colors. You can blend the colors to get the most appealing décor that you fancy.
2. Enhance air supply
As the name implies, air plants supplement oxygen when you plant them indoors. This means that you can never run out of the air at any time. How exactly does this happen? Well, plants breathe in carbon dioxide and breathe out oxygen. Owing to that, you will get a constant supply of fresh air. What's more, it is all natural and non-toxic. Some houses usually lack proper ventilation. Thus, with air plants, you can breathe in; adequate air regularly.
3. Reduce allergies
Many people in the United States of America suffer from allergies and asthma. To prevent sneezing, watery eyes and coughing; air plants trap all the allergens. They have trichomes can catch dust and pollen which cause allergies. Thus, the air gets the purification it needs. Air plants act as buffers against all kinds of irritants. They also include air fresheners, candles, strong perfume, and aerosol products. Trichomes will get rid off them and cleanse the air.
4. Contribute to positive energy
If you feel sad and unhappy most of the time, you should get air plants. They have been scientifically proven to manage stress and anger. They also control depression and mood swings. On that account, you will feel a lot happier and joyful. You will in high spirits when you have air plants in your bedroom or sitting room. They also fill you with energy so that you don't experience fatigue. This makes you active and ready to tackle any activity that you need to complete. Therefore, you will not postpone important tasks that are worthwhile. Again, you will be more relaxed and calm as you carry on your daily duties. Above all, they act as stress relievers which will make life more bearable. You will feel hopeful and yearn for a better tomorrow.
5. Refine the air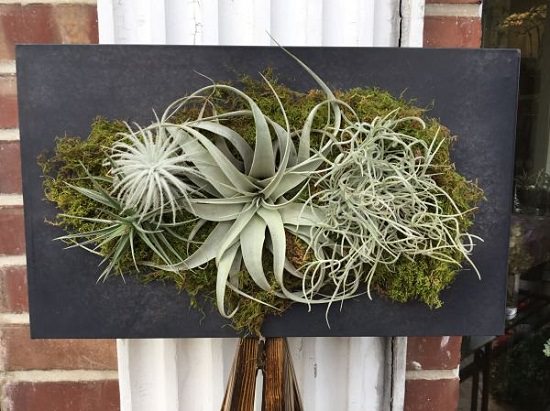 Air plants take in all the carbon dioxide in the house from different sources. They also attract all the dirt, mold, bacteria, and humidity in the air. This detoxifies the air leaning no stone unturned. As a result, you will breathe in air that is free from harmful substances. Air plants give you the prime opportunity to inhale country air. This type of air has garden-fresh oxygen without pollutants. You should invest in air plants to have a healthy respiratory system.
6.Improve productivity
If you lack focus and concentration, then air plants are your best solution. They will boost your productivity levels and ensure that you achieve all your objectives and goals. You should place some air plants on your office desk or in your study room at home. You will find yourself accomplishing tasks within a short time. You can also come up with brilliant ideas as you work. To top it up, you can sound and quality decisions with a straight mind. The science behind it; is because there is less carbon dioxide in the air. Clean air means that your mind is also clear to see things as you should in the right way.
7. Manages high blood pressure
You will be impressed to hear that air plants control blood pressure. As mentioned before, it lowers stress levels. This, in turn, translates to stable blood pressure. It will not shoot up when you are agitated because the air plant will calm you down. Hence, they are important for people with high blood pressure. You don't have to prepare a concoction to be better. You only need to inhale the awesome air produced by the amazing plants. Then, you will feel as though you meditated for 5 hours straight.
8. Flexible and versatile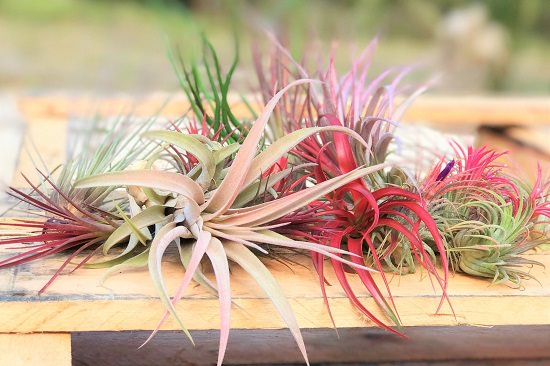 You don't have to pick a perfect place to grow air plants; they can adjust into any space. In that case, you can customize the style by placing them in various containers. They thrive in glasses or bottles as well. You can also plant them in bowls or concrete containers. Since they don't require soil for development, any ravishing holder can do the magic. You can even move them from one room to another. They are not heavy which makes them super versatile.
9. Durable
Air plants are resistant to diseases and pests which makes them resilient. With the right light amount of sunlight and water, they last longer. They will not wither and die off easily. You can rely on them to serve you for a life span. You only need to give them the basic care and they will look best all the time. The air babies that grow from the main plant highlight the benefits of air plants. You can transfer them to another container so that they can continue getting bigger.
Bottom line
The benefits of air plants are massive and of the essence. You can optimize health advantages and live a fulfilling life. You will be optimistic and surrounded by positivity every day. You will totally look great and feel great from deep within your soul. They contribute to the overall well-being of a person. Besides that, to make your house stand out; you need air plants. They will enrich your already irresistible house with color and nature. Grow air plants and experience the best out of them.