Discover creative Crochet Air Plant Holder Ideas and elevate your plant decor with the best handmade designs.

Crochet Air Plant Holder Ideas doubles the beauty of your air plants with their artistic and charming visibility. So, if suspended from the ceiling or adorning a tabletop, these holders add a delightful touch of whimsy to any environment. Let's explore Crochet Air Plant Holder Ideas and bring a touch of warmth and individuality to your indoor space.
Explore 11 Amazing Benefits of Air Plants

here
---
Crochet Air Plant Holder Ideas
1. Jellyfish Crochet Air Plant Holder
This is one of the most beautiful jellyfish-inspired Crochet Air Plant Holder Ideas. It features charming French knots. Crafted with cotton yarns for a clean aesthetic or jute for a more rustic appeal, this idea offers a unique and artistic way to showcase your air plants.
2. Itsy Bitsy Crochet Air Plant Holder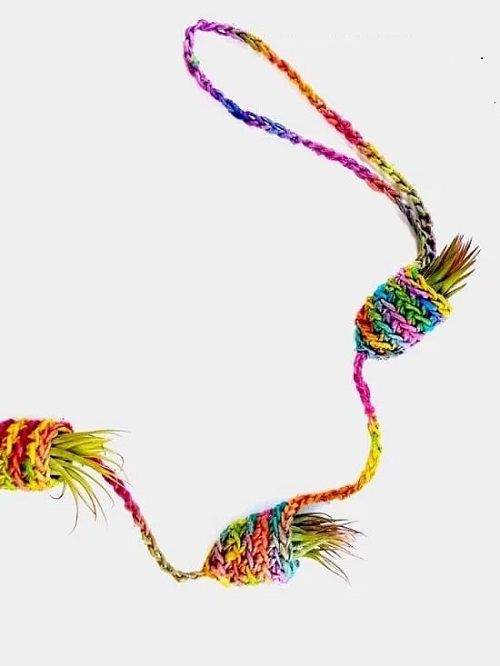 Infuse vibrancy into your space with a multi-tiered air plant holder. It is made from darn good yarns. Following a continuous rounds pattern, this eye-catching creation is easily customizable. Therefore, it allows you to add more tiers for a stunning visual impact.
3. Lucky Pineapple Crochet Air Plant Holder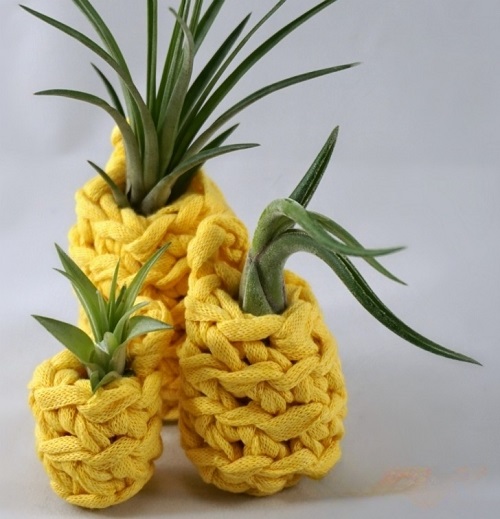 Elevate your space with luck and creativity with this pineapple-inspired air plant hanger. This is easily crafted with Lion Brand Fast-Track yarn. It adds a whimsical flair to your surroundings, and you can even suspend them elegantly by incorporating a tiny loop.
Know How to Grow Air Plant from Seeds

here
4. Crocheted Bowl Air Plants Ideas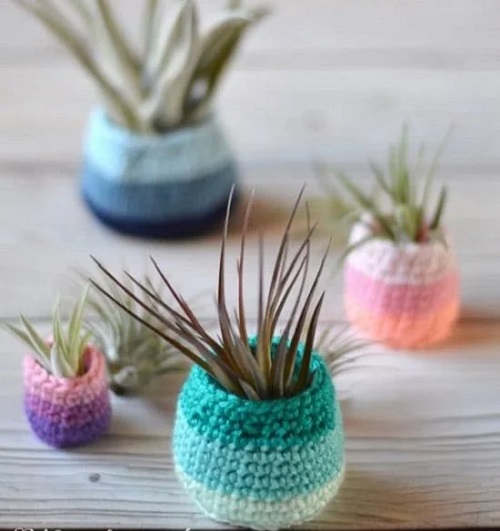 Watch out for this instructional video guiding you to create striking crocheted bowls designed to cradle large air plants. Elevate your crafting skills and adorn your space with these aesthetically pleasing plant holders.
5. Rustic Elegance Crochet Air Plant Hanger Ideas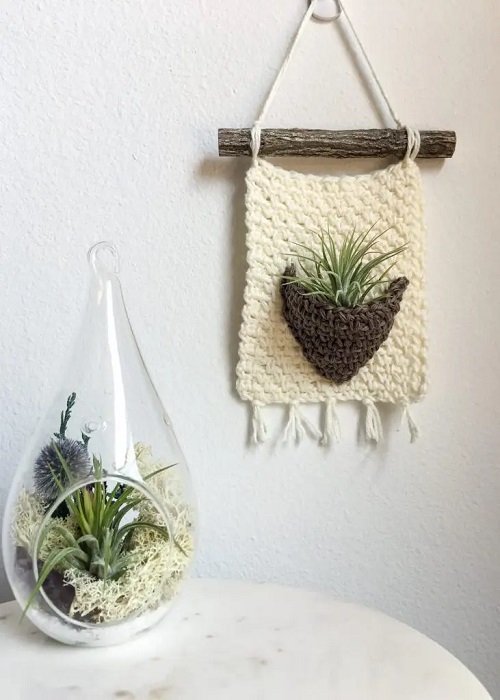 Suspend a nest-like air plant hanger anywhere on your patio. It radiates rustic charm with the Front post-half-treble technique. Try out this idea that transforms yarn into a nature-inspired planter.
6. Fun and Round Crochet Pattern Hanging Air Planter Ideas
Embrace the simplicity of a round, hanging air plant holder made effortlessly with bulky yarn and a Tapestry Needle. Add a whimsy to your walls by showcasing air plants in this playful, free-spirited planter.
7. Modish Pouches Hanging Crochet Ideas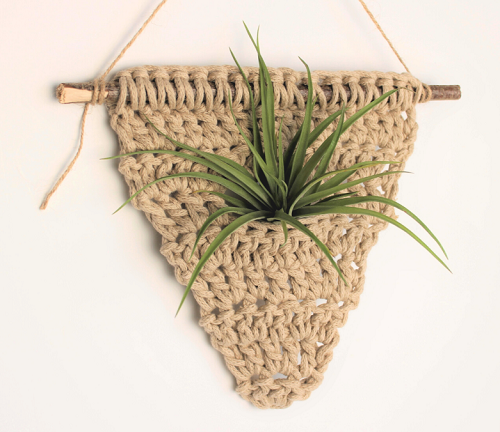 Infuse bold colors into your home with teardrop pouches carrying beautiful air plants. Crafted with Lion Brand Wool-Ease Thick and Quick yarn or any bulky yarn you choose, these pouches bring a modish feel to your living space.
Understand the Reason of Air Plant Turning Red

here
8. Crochet Air Plant Holder Ideas
Discover the art of crafting trendy and adorable air plant pots using your crochet skills. Dive into a helpful tutorial that guides you through using SC2TOG stitches. Explore the secrets to creating stylish and functional plant holders.
9. Brown Beauty Quick and Easy Ideas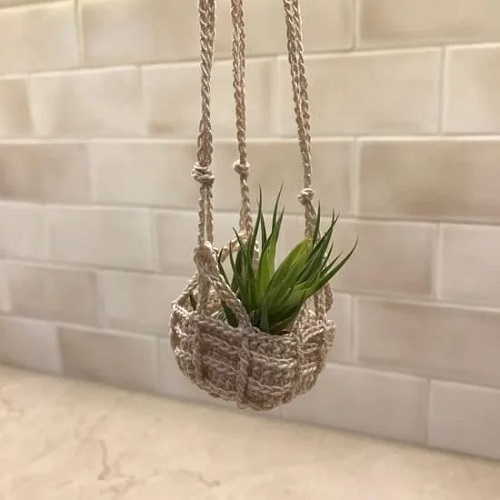 Enhance your space with a quick and easy brown-colored hanging planter. It is crafted from complementary shade cotton yarns. Worked in continuous rounds, this plant hanger provides a stylish and effortless way to display your favorite air plants.
Check Out How to Remove Air Plants from Trees

here